Gutter Cleaning in London to Prevent Roof Leaks and Water Damage
When was the last time you had your gutters and downspouts professionally cleaned? If you are not exactly sure, then you are probably in need of our gutter cleaning London service. This service is suitable for buildings that are 3 stories tall the most and ensures that the clogged gutters won't cause any damage to your property. Here are a few examples of what you will be avoiding by booking a gutter clean with us:
Gutter Cleaning Pricing
Gutter cleaning prices depend on the type of your property. Our rates start from £37.
Request a Quote Now
Leaky roof

Mould growth and unpleasant odours

Pest infestations

Foundation cracks

Driveway/sidewalk damage

Flooded landscape

Basement flooding

Rotting wood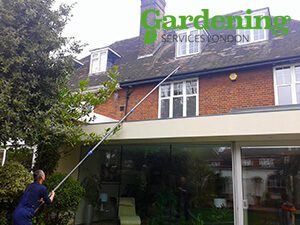 But just what kind of gutter specialists we would be, if cleaning was the only thing we did?
Gardening Services London
can also help you with comprehensive
maintenance
and even replacement of parts. Here are a few examples:
Gutter Repair

Gutter Lining

Gutter Replacement

Downpipes cleaning
What Makes Our Gutter Cleaning Company Different?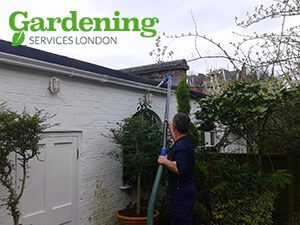 The
gutter cleaners in London
have done this countless times. They will easily restore the functionality of your gutters and downpipes.
And here we have listed some of unique features that come with this service.
The technicians use an industrial vacuum cleaner with a telescopic pole and a camera (Gutter Vac Clearance System), and powerful jet washers.

A 1-month guarantee after cleaning.

A 6-month guarantee for gutter repairs.

Regular maintenance can be arranged.

Some discount options are available when you book other services together with the gutter clean.

Customer care always ready to help you.

Service is completely safe, as it is done from the ground level.
How The Gutter Cleaning In London Is Performed
#1. Book the gutter cleaners in London – Simply contact us to make your booking. Our friendly customer care staff will ask you a few questions such as what is the type of your property and how many stories the building is, or if there are any gutter guards. That way they will be able

to give you an exact quote over the phone.

#2. Inspection – When the gutter cleaning team arrives,

you need make sure that they will have ground access to the building.

The specialists will get to work right away and the first thing they will do is to check the overall condition of the guttering system with a mini camera attached to the telescopic pole. Some parts or areas might be in need of repairs or improvements.
#3. Cleaning – The technicians use a powerful wet vacuum-cleaning machine with an extendible pole that can be stretched up to twelve meters. This allows the specialists to clean higher floors from ground level without the need of any ladders.
#4. Reporting –

When the gutter cleaners are done with the job, they will show you the results of their work.

Each vacuum-cleaning machine has a mini-camera attached to its end, so the specialists are able to show you 'before' and 'after' pictures of your gutters.
#5. Consultation – Depending on the condition of your gutters and how clogged they were, the technicians will tell you how often you'll need professional cleaning, and if you will have to do any gutter replacement in the future.
Contact Your Gutter Cleaning Company Today!
Just give us a quick call on
020 3746 2449
and we'll be able to quickly arrange your professional gutter cleaning service. In addition, you can
request a price quote
for your service online.