Gutter Cleaning in London to Prevent Roof Leaks and Water Damage
Gutter Cleaning Pricing
Gutter cleaning prices depend on the type of your property. Our rates start from £39.
Request a Quote Now
Book a gutter clean for your London property today and protect your home from water damage.
Get the following benefits:
Fully trained and well equipped technicians - Every team uses an industrial vacuum cleaner with a telescopic pole (Gutter Vac Clearance System);
Before and after photos - The telescope poles have cameras which allow them to see the condition of your gutters;
1-month guarantee after cleaning;
Discounts for booking several of our services in one go;
Regular maintenance can be arranged;
Service is done from the ground level;
Gutter Cleaning London For No Roof Leaks and Water Damage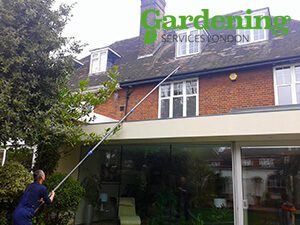 When the gutters are clogged, water has nowhere to drain away. Instead, it will find its way to your home through the walls and will cause dampness and mold. Cleaning your gutters twice a year will save your home from:
Leaky roofs;

Mould growth and unpleasant odours;

Pest infestations;

Foundation cracks;

Driveway/sidewalk damage;

Flooded landscape;

Basement flooding;

Rotting wood;
How The Gutter Cleaning In London Is Performed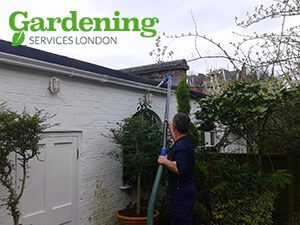 #1. Book the gutter cleaners in London – our customer staff will ask you a few questions about your gutter to give you a better calculated price.
#2. Inspection – The gutter cleaning team needs 

ground access to the building.

They will check the overall condition of the guttering system with a mini camera.
#3. Cleaning – The technicians can clean a building up to 3 stories with their Gutter Vac Clearance System.
#4. Reporting –

When the gutter cleaners are done with the job, they will show you the results of their work.

#5. Consultation – Depending on how clogged your gutters were, you will get advice on how often they need cleaning.
Word of advice:
If you need tree surgery, be sure to book it beforehand. Otherwise falling leaves may clog your freshly cleaned gutters.
Contact Your Gutter Cleaning Company Today!
Just give us a quick call on
020 3746 2449
and we'll be able to quickly arrange your professional gutter cleaning service. In addition, you can
request a price quote
for your service online. If, by any chance, you need other aspects of your garden taken care of such as: grass cutting, clean up, hedge trimming, lawn repair or patio pressure cleaning, be sure to call.